United Fabricators has been providing top notch professional engineering services from last 30 years. Our goal is to fulfill your needs timely and as economically as possible, without compromising quality.
Our professional team has a broad range of experience and knowledge to assist you with all of your mechanical structural engineering needs. Our experience ranges from cement plants to heavy railways structures.
Expertise comes with the experience", and with the hands on experience of more than 30 years, we are now one of the expert in the field of fabrication and erection of heavy structures and equipments. We specialize in Cement Plants, Chemical plants, Thermal & Hydel Projects, Telecom Sectors and Railways.
Engineering services forms a blue-blooded division with a strong pedigree of efficiency and effective handling of various projects; we deal exclusively in structural, fabrication and erection engineering practices.
We are well equipped with the experienced team of technical expertise and the latest modern machineries, equipments, tools and tackles with advance technology.
With pleasure we mention that our esteemed clients have appreciated us times and again for the timely completion of the challenging projects of national interest.
Infrastructure
List of Machinery, Tools and Tackles
| SL. NO. | Description | Quantity |
| --- | --- | --- |
| 1 | Smaw Auto Weld Machine (1200 AMP ESAB Make) | 2 |
| 2 | Drilling Machine | 14 |
| 3 | Drilling Machine (pillar) | 24 |
| 4 | Gas Cutting Set | As per requirement |
| 5 | Grinders (all Types) | As per requirement |
| 6 | Hand Winches | As per requirement |
| 7 | Large Plate Bending Machine (50 mm to 3000mm thick plats) | 2 |
| 8 | Mig Welding Machine | 25 |
| 12 | Plasma Cutting Machine | 1 |
| 13 | Power Generator | 2 |
| 14 | Power Shapers | 1 |
| 15 | Pug Cutting Machine | 16 |
| 16 | Shearing Machine | 1 |
| 17 | Chitta Machine | 6 |
| 9 | Welding Generators | 2 |
| 10 | Welding Rectifiers | 50 |
| 11 | Welding Transformers | 60 |
Our Execution Work In Cement Plant
Fabrication Of Duct, Hopper, Bin, Reducer, Chute and Bends, etc.
Fabrication of Truss, Beam, Purlin, Column and Stock File Sheds & Conveyers, Tower as Structural Work.
Laying Pipeline of Different Sizes in Oil line, Air line and Lubrication System
Laying Conveyer Belt and Vulcanizing
Handling, Loading, Unloading, Transportation of Materials and Stacking.
Erection of Fabricated Items
Basic Business Info
Business Type: Manufacturer, Exporter, Supplier and Service Provider
Sales Volume: 10 Crore
No. of Staff: 25 Persons
Establishment Year: 1970
Production Units: 02
No. Of Engineers: 05
Production Type: Automatic & Semi-Automatic
Customized Products: Yes
List of Machinery, Tools and Tackles
| SL. NO. | Description | Quantity |
| --- | --- | --- |
| 1 | Smaw Auto Weld Machine (1200 AMP ESAB Make) | 2 |
| 2 | Drilling Machine | 14 |
| 3 | Drilling Machine (pillar) | 24 |
| 4 | Gas Cutting Set | As per requirement |
| 5 | Grinders (all Types) | As per requirement |
| 6 | Hand Winches | As per requirement |
| 7 | Large Plate Bending Machine (50 mm to 3000mm thick plats) | 2 |
| 8 | Mig Welding Machine | 25 |
| 12 | Plasma Cutting Machine | 1 |
| 13 | Power Generator | 2 |
| 14 | Power Shapers | 1 |
| 15 | Pug Cutting Machine | 16 |
| 16 | Shearing Machine | 1 |
| 17 | Chitta Machine | 6 |
| 9 | Welding Generators | 2 |
| 10 | Welding Rectifiers | 50 |
| 11 | Welding Transformers | 60 |
Organization Chart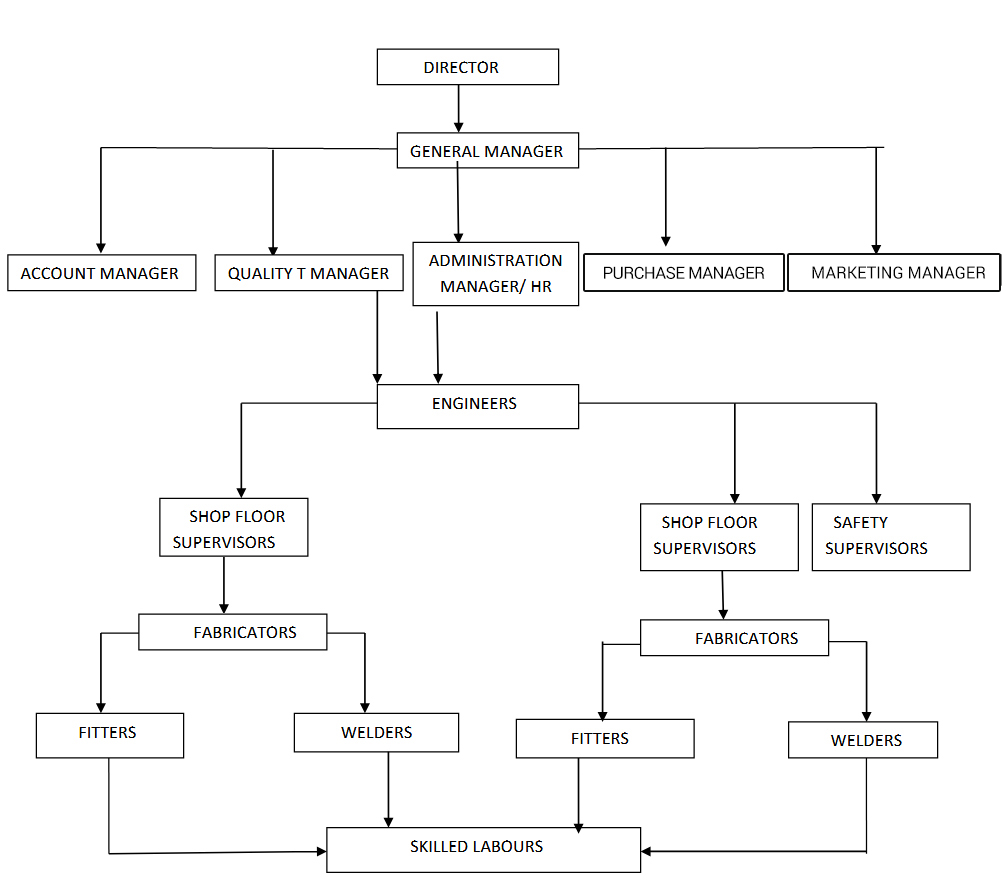 Our Team